Cranberry Bog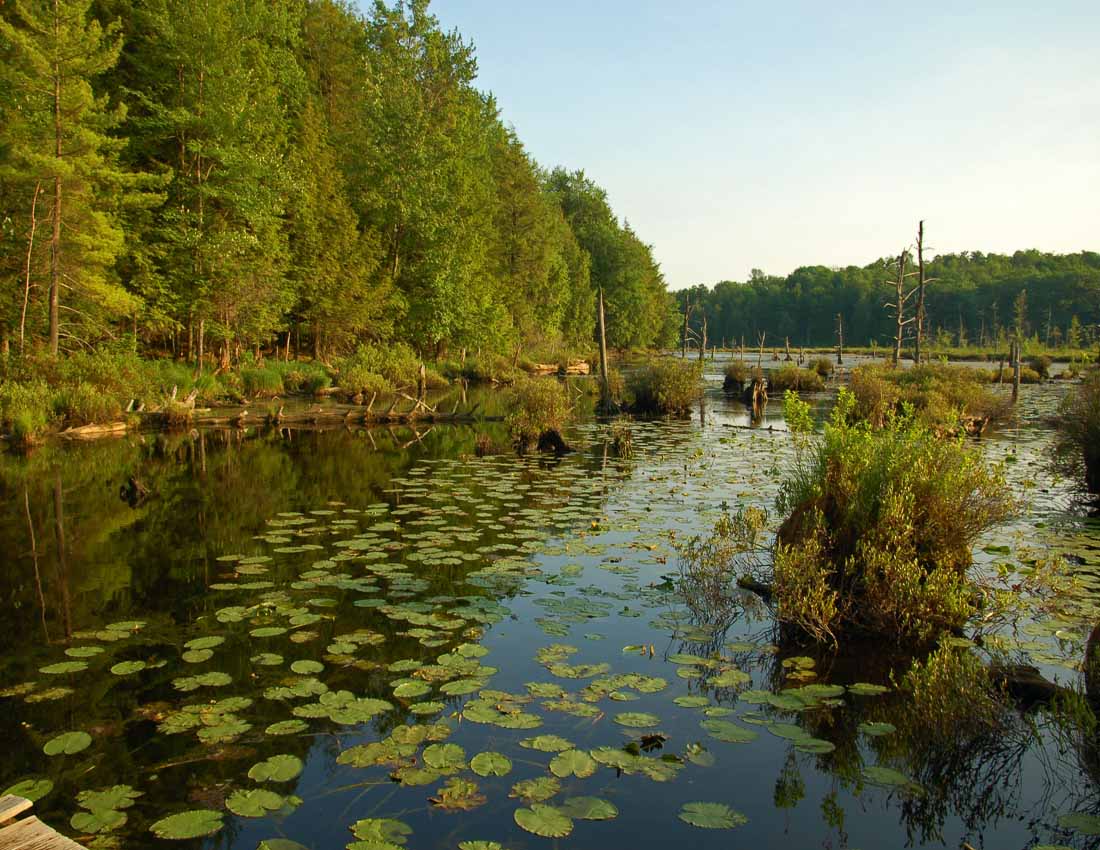 The Cranberry Bog rests in a sedimentary rock basin, with the Moscow Shale Formation ( the most superficial shale formation beneath the bog ) having been scoured by repetitive glacial activity beginning as early as two million years in the past and ending 13–14,000 years ago.*
This depression served to collect, and contain sediment and organic material over the millenniums through the present time. This material forms the substrate upon which the flora and fauna of the bog are dependent.
Despite its popular name the Cranberry Bog is technically not a true bog, but rather a fen or system of fens.** It probably never produced edible cranberries although two species of  a small non-domestic cranberry are to be found.
Early settlers had purchased or leased land from the former Cooper, Croughan Patent and the bog was included within those lands. Many of those settlers had come from the area of Burlington ,N.J., a coastal community where cranberries were grown and harvested. Upon settling in their new community sentimentally namedBurlington,N.Y., they may have attempted to grow cranberries in the bog, or maybe it simply reminded them of their home area inNew Jersey. In any event the name Cranberry Bog was adopted and stuck.
There is an earthen berm at the southernmost end of the bog that serves to elevate the water level by approximately one foot and that prevents any seasonal overflow from eroding and draining the wetland.
The origin of the berm is uncertain. It may be the remnants of a dike constructed by the early settlers as they attempted to create a cranberry bog, or more likely it is the remnant of a dam created by hundreds of generations of beaver activity. An access path is maintained on the proximal half of the dike with the distal half remaining under the control of the beaver and the elements.
The Cranberry Bog owes much of its research value to its altitude and isolation. At an altitude of 1800 ft., combined with its historic weather patterns and cool temperatures its plant colonies more closely resemble those of a northern Adirondack or Quebec wetland.
Its isolation has also protected it against highway, agricultural, industrial and housing pollution. There are very few exotic plants or animal species present and having almost completely controlled its watershed, it remains a reliable control or baseline for future studies of local waters.
A census of all biota and physical characteristics is maintained by the Biological Field Station and SUNY Oneonta, and multiple research and teaching projects have, and will be accomplished. A listing of prior, and ongoing projects follows. Their complete texts may be found in our homepage listed under Research.
*   Hasbargen, L.   See  Geologic History of Greenwoods Conservancy. This website.
**  Harman, W.N.  See  Research and Teaching. This website.
**  Taylor, L.         See 1994 Annual Report. Pp. 105-108.  This website.